How to contact us ?
You have questions about ourMontessori school Abidjan, Montessori method, The pedagogical program, or on some other subject, don't hesitate ! Contact ENVOL MONTESSORI.
Please see our section Inscription – Information, you will surely find answers to your questions.
We also invite you to visit our page Facebook that will give you more information.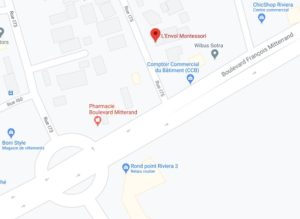 Geographical address :
I75 Riviera Bonoumin Street
Abidjan – Ivory Coast
Phone :
(+225) 07 77 91 91 41
Email : contact@lenvolmontessori.org
Contact form